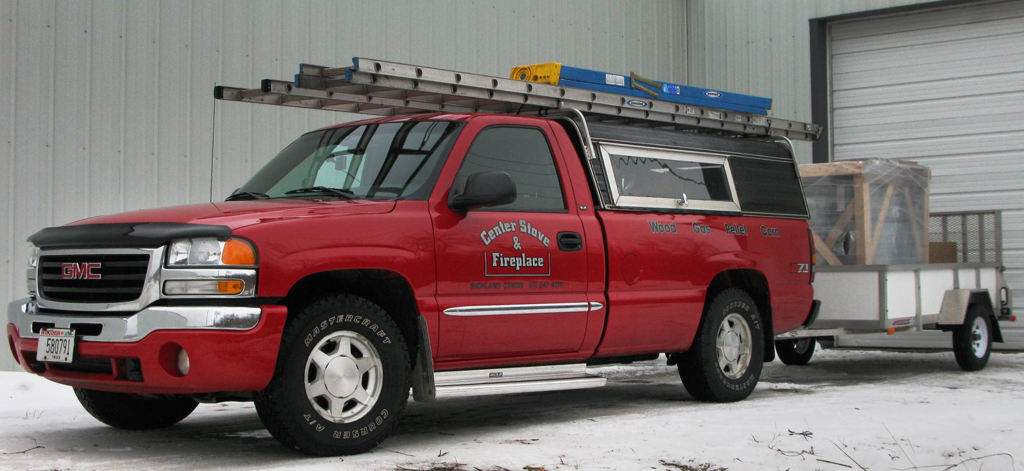 Installation: We take proper installation very seriously, so that you can feel confident in using your stove or fireplace for years to come. Our experienced installers are certified with the National Fireplace Institute, and trained to do the job right, efficiently and neatly.
Finish work: Stone work, cabinets, hearth pads & risers, mantels, accessories. We can take care of the entire job for you, start to finish, or we will be glad to work with you, or another tradesman of your choice to make sure the finished product is exactly what you wanted.
Chimney Sweeping & Inspection: This is how Center Stove & Fireplace got started back in 1991. A typical service appointment includes sweeping the chimney and inspecting its condition above the roof, as well as inspecting, cleaning and servicing the fireplace or appliance inside the home. We recommend this every year, and encourage you to do it in the spring, at the end of the burn season.
Levels of Inspection: The National Fire Protection Association specifies different levels of inspection for different circumstances. Level 1(included with our standard sweep) is recommended every year to verify the system is suitable for continued use. A Level 2 inspection is required when it is an unfamiliar system, if there is a change of ownership, change of appliance or fuel type, chimney fire or other event that brings the continued use of the system into question. A Level 3 inspection can be required, if a level 2 inspection raises questions that needs further evaluation.
Chimney Maintenance & Preservation: We recommend and apply a variety of Saver System® products to protect your chimney from the elements to avoid costly repairs later. We also can also rebuild or repair chimneys that have already suffered damage.
Caps: Every chimney should have a suitable cap to keep out animals, birds, rain, and leaves.
Gas Fireplace Service: Our National Fireplace Institute certified technicians are trained to service natural gas and propane fireplaces and stoves. An annual service appointment is recommended to ensure safe operation, proper performance, and optimum flame appearance.
Real Estate Inspections: Take the risk out of buying or selling a home with a hearth appliance. Don't assume that a fireplace or stove that has been used for years is safe to continue using. Our trained technicians can thoroughly inspect the heating system to find any potentially dangerous problems. We can also provide you with an estimate to bring the system up to current safety standards.
Are you ready to have a heating system installed or serviced? Contact us here.